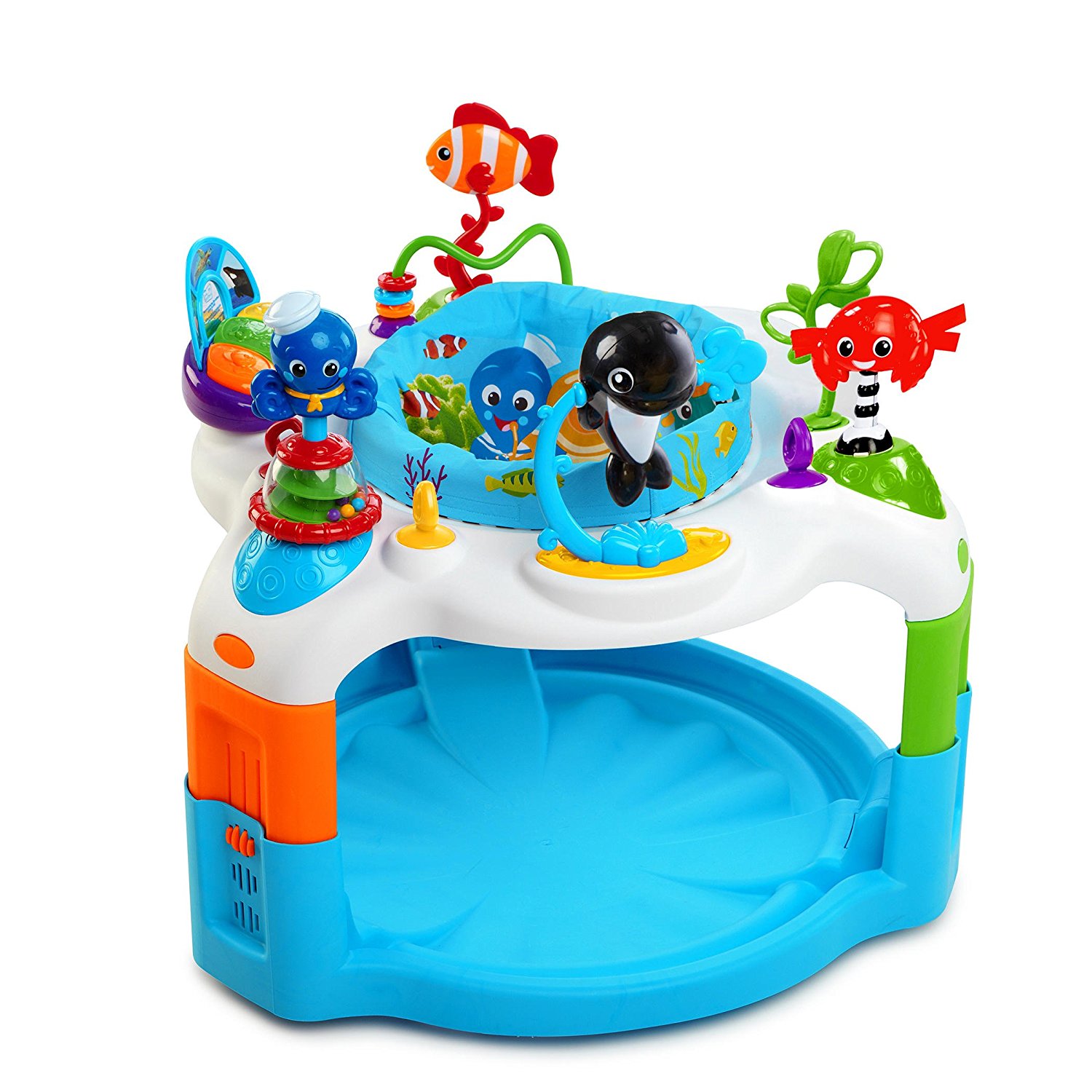 Two of my kids are absolutely obsessed with fish of all kinds. I don't know what it is about them, but they seem drawn to fish. They love their shapes, colors, and the way that they move. I find that a lot of younger kids seem to love fish.
So, I was absolutely thrilled when I found a Baby Einstein exersaucer that was based entirely around fish. The Baby Einstein Rhythm of the Reef is a great exersaucer and one that I would recommend to other parents. I'm going to explain why I like it so much in this review.
The Good
First off, I absolutely adore how simple it is to put this exersaucer together. I find that with a lot of exersaucers, putting them together is a major hassle. Small parts get lost, you have to struggle to figure out which toy goes where, plus many of them break easily, so if you aren't super careful while constructing one, you could break it before your child even gets to use it.
I'm glad to say that none of those is an issue with this Baby Einstein exersaucer. I was able to put it together myself with no outside help whatsoever. All the parts fit together well and it's extremely easy to figure out which toy goes where.
The entire toy is height adjustable, which is good since it means that the toy lasts for quite a while. You don't have to worry about your baby hitting a sudden growth spurt and outgrowing the toy. You'll definitely get your money's worth out of this Baby Einstein exersaucer.
Plus, I find that it's very well-made. Sure, it is made of plastic, but it feels sturdy and you can tell that it can take a good amount of punishment before breaking. So, this means that you can use it for multiple children as well.
Now, as I'm sure parents are aware of, children's toys get dirty and occasionally need to be cleared. I know that's certainly the case with my kids. Thankfully, cleaning the exersaucer is simple. The pad can be taken out and thrown into the washing machine. At the same time, the actual toy tray can be easily wiped down with a baby wipe. So, you don't have to worry about clean up being a hassle if your child makes a mess while using the exersaucer.
The Not So Good
The only major complaint that I have with the toy is that there is a bit of a lack of padding. The toys are made of hard plastic and given how children, especially younger ones, tend to play, I could definitely see some children hitting themselves with something.
Now, it wouldn't cause any actual damage, but I could definitely see parents having to deal with some crying every now and then. Overall, it's a pretty minor issue.
If you are in the market for a good exersaucer, then I definitely suggest that you try out the Baby Einstein exersaucer. If you want more information, go ahead and check out the product on Amazon.
Conclusion
Though there are many baby activity saucers in the market today, this Baby Einstein Rhythm of the Reef stands out among the rest. This is because it comes in an excellent underwater theme with exciting colors of the marine life to capture the babies' attention in one go! It comes with three adjustable height features, which ensures that you can use it for multiple babies as well. Made from high-quality plastic, this saucer will never cease to surprise your babies. Go for it, as it is one of the best toys to improve the motor skills and hand-eye coordination of the kids, in this price range.