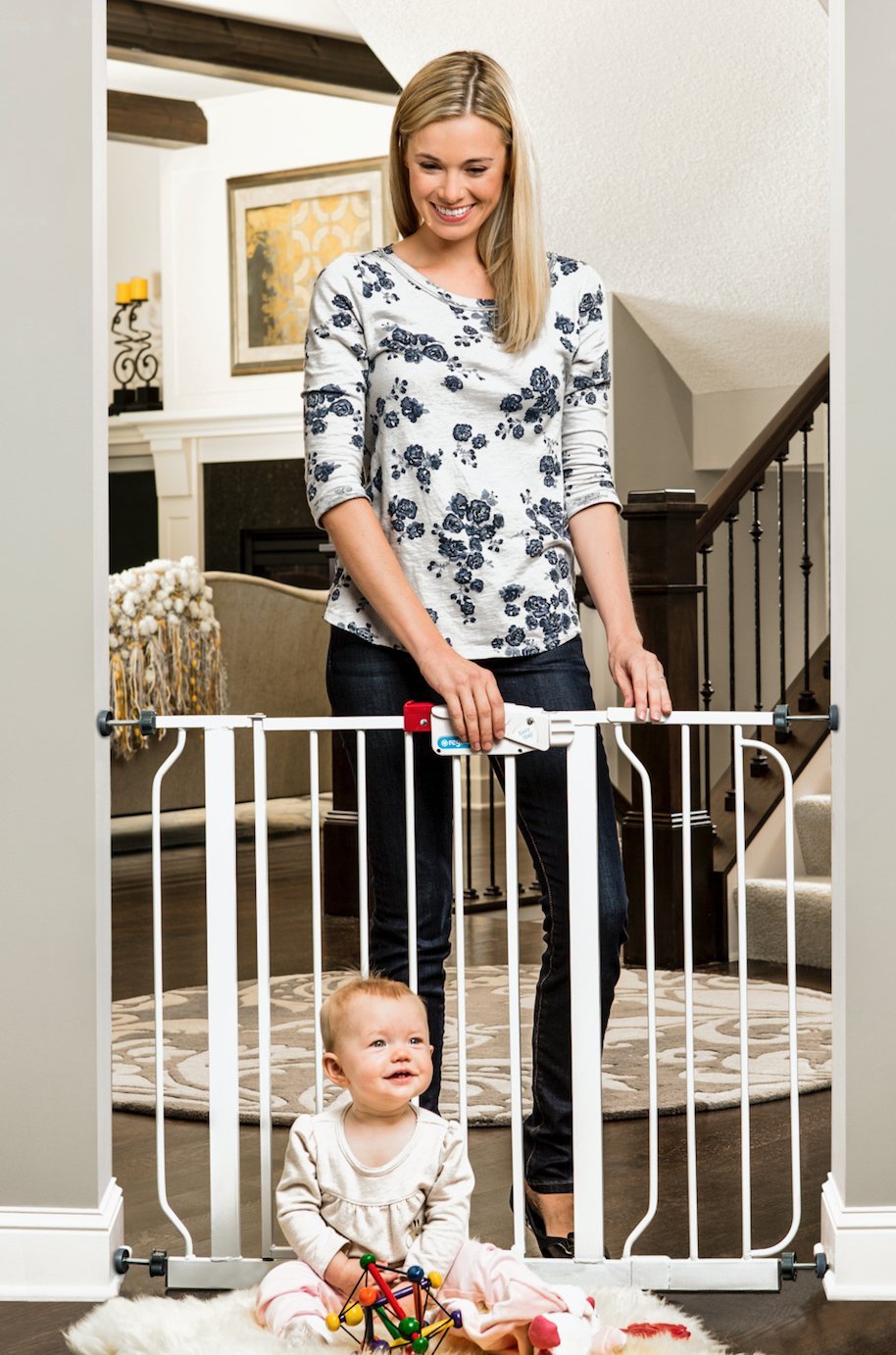 Some parents are blessed with babies who never roam, but I was sadly not one of them. All my children, but my youngest especially, seem to love wandering. If you have time to watch your little one, it isn't a big deal.
But, if you have other things to do, then it becomes a bit annoying and inconvenient to have to keep a constant eye on your child. That's why I always make it a priority to have a good baby gate for stairs set up. In this review, I am going to tell you about my personal favorite baby gate, the Regalo Easy Step Walk Thru Gate.
The Good
There's a lot of things that I really love about the Regalo Easy Step. To start off, let's talk about how absolutely easy it is to use and set up. I'm not technically inclined, but even I was able to set up the gate with absolute ease.
Plus, it doesn't require any tools to set up. Just wedge the gate into the doorway or any other opening, adjust the handwheels until the gate feels secure, and that's it. In my opinion, this is the easiest baby gate for stairs to both assemble and use.
In terms of flexibility, the Regalo Easy Step scores good marks there as well. Unlike a lot of other baby gates, this one comes with an easy to use adjustability kit. So, if you find that it doesn't fit in your doorway, you can easily extend it outwards by a maximum of 6-inches.
Another thing I absolutely love about the Regalo Easy Step is its durability.
I personally find that your average baby gate for stairs is incredibly flimsy and cheap. They tend to be made of very thin material and break or snap at the first opportunity. But that's definitely not the case with the Regalo Easy Step. It can take quite a bit of punishment (bending, dropping, etc.,) and still work as if it was brand new.
The Not So Good
It's hard to overstate how much I love the Regalo Easy Step; it's an amazing product. However, I do have one complaint.
The opening on the gate is much too small. While kids will be able to walk through it easily; adults, especially men will find it very difficult to move through the small opening. If you do install this gate, either be extra cautious when you walk through the small opening or be prepared for a lot of bumped knees.
For some people, this will be a minor issue since many probably won't even bother walking through the gate. However, for others, it may be a slightly bigger issue.
The size issue aside, the Regalo Easy Step Walk Thru Gate is easily one of the best baby gates out there. If you are in the market for a baby gate for stairs, then I wholeheartedly recommend checking out the Regalo Easy Step on Amazon.